Cassidy Interview | Trifylli.net
Cassidy Interview
  First appeared in the "Irish Times" website 1998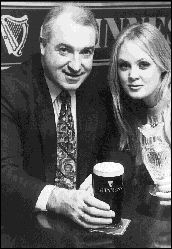 Cassidy holds his head high

TOMMY CASSIDY is comfortable with himself. 
Relaxing on an inviting armchair, sipping tea in a Belfast Hotel, the former Glentoran manager is quite proud of his Uefa touchline suspension. 
Remarkably happy that his outspoken manner almost brought Cypriot football to its knees when he challenged corruption.
Assiduously satisfied with his work as manager of Glentoran FC, while reflecting on his recent resignation there. 
He's sufficiently receptive to a barrage of questions and is equally keen to go home and nurse a sudden 'flu bug. The demands of fatherhood take preference though as Cassidy's son must be collected from school before dad heads off to Castlereagh Park where Ards, his new club, prepare for a Coca-Cola Cup fixture.
Devouring a chicken sandwich, the former Newcastle United and Northern Ireland international proclaims: "You fire the questions and I'll answer. I never hide from the press, in fact I love to work alongside the media. That's probably why I've been criticised by certain people – but they're not football people, they're d**kheads who know nothing about the game. "You," pointing his managerial finger in my face, "That interview you did with Roy McCreadie (Omagh Town manager) and he called me an amateur, that I don't like. "If there are facts to be answered to, I'll answer.
He (Roy McCreadie) said hurtful things which went into print, but I've mellowed since. "I know the facts and if someone nails me in the press and they have their facts right, fine. "But it gets stuck in my head (slapping his forehead) when I know the wrong things have been said about me, you know, mud sticks."
Responding to the words of the Omagh Town boss after the sale of Ards striker Harry McCourt to Cliftonville, Cassidy says he's above "lashing back." "I have played professional football in England, for Newcastle United, for ten years. I've been at Manchester United and Burnley. "I have played in the World Cup finals for Northern Ireland and I have 24 international caps. "I have managed in England and in Cyprus. I took the Glentoran job and turned the club around. "We won the Irish Cup in 1996 and reached Europe. I know where I have been and what I have achieved and I'm proud of it all."
Tommy Cassidy returned to Irish soccer in 1994. He left Cyprus ablaze with allegations and accusations, not only against those who run the game but those he worked for at Apoel Nicosia. "I knew what was going on. To them it's not a bribe, it's how they see the way football is run. "It was brushed under the carpet. I saw money being handed over to a referee and I challenged it. The guy who did it said, 'Tommy, this is how it is'. "Now I'm banned from the sideline for Uefa games. I'm quite proud of that, I am.
"It all started the night before we played a cup game against Sofia. We went, myself and the chairman, to this little chateau in the mountain for dinner. There I noticed three little guys with three big blonde birds. I was told the men were our match officials.
"The next day, they arrived at the game with the three girls. Now these guys were 5ft 6in and the girls were 6ft plus with long legs. We drew 2-2 in the first leg and I honestly thought there was something going on. I grabbed the referee afterwards and accused him of taking bribes. They tried to tell me that the three girls were interpreters. They were prostitutes.
"I spoke out and ended up in front of a tribunal. There were two French guys and one German, all about 70 year's of age. They didn't want to open that can of worms. "I sat there in a glass surround and they wouldn't look at me. I spilled the beans and I got done for that. I had no future there. A short while after I came home, I sued World Soccer magazine. "A report said I had left Cyprus over allegations of corruption. I won that case.
About 18 months ago, I got a call from an old friend in Cyprus. The country is mad about soccer, it's a way of life there and it has many newspapers dedicated only to the game. My friend told me that the whistle had been blown on bribery. The next day the papers published only white pages."
Cassidy took over at Gateshead on his return to England and flirted with the idea of managing Newcastle United.
"In 1992 I was touted for the Newcastle job. Jim Smith had just been sacked. "I was managing Gateshead at the time but Ossie Ardiles got the job and what a disaster that turned out to be."
In 1994 the one-time Ards Boys youth star returned to his native Northern Ireland. The young Protestant boy swept of his feet by professional football, had come full circle. Almost four years later, he is Tommy Cassidy, failed Glentoran manager. A description he contests with notable anxiety. There were good times, the Bass Irish Cup win of 1996.
The maintaining of a place in the Premier League. European football.
On the other hand, unexpected defeats, four defeats in six cup finals and Liam Coyle. The club's most expensive player signed from Derry City in December 1995. Coyle's class was a footballing God-send and Glentoran needed his like. Little over one year later the unhappy player returned to the Brandywell. Cassidy will always be left to answer the Coyle issue. 
He said: "I was approached by Glentoran while I just happened to be thinking of coming back to live in Northern Ireland. I wasn't sacked by Glentoran. I made it easy for them. After the Linfield game (a league fixture which signalled the end of Cassidy's spell as Glens manager in December 1997) I went to the chairman and said, 'it's no good. Every time the other team score a goal, these d**kheads have a go, affecting me, the players and the board. So I said, let's come to some arrangement and I'll go. 
"Since then, I have been annoyed with one or two people in the club. I mean, when I arrived at Glentoran in June 1994, they were at all-time low. The year previous they finished ninth in a league of 16. They had to finish fifth at very least to stay in the top division of the new leagues. I looked around the team. I swear, it must have been the worst team I had ever managed. So my claim to fame is not winning the Irish Cup in 1996 but turning the club around. We stayed up to go into the Premier League. We won the Irish Cup and finished third in the league and last season we finished third. We played in six cup finals.
"In transfer fees, I brought in around £300,000 and spent half of that. But I will be remembered for my last three months or so at The Oval. Since winning the Irish Cup on May 4 1996, we sold Glen Little for £125,000, Liam Coyle (bought for £35,000 before May 4 1996) and Declan Devine for £42,000, for Trevor Smith we got £20,000, £40,000 from Uefa for winning the cup and entering Europe and £80,000 television rights. I spent £37,000 on John Drake and Phillip Mitchell for £13,000, Tom McCourt for £5,000 and Stephen Livingstone for £20,000.
"I stick to my guns with Liam Coyle. He is one of the most skillful Irish players in history, but he had to go. He was missing training and other players were taking note. I think he only trained 15 times in 14 months with Glentoran. In one sense he has great ability, great to watch. But on the other hand he was not being professional, not acting as I expect a professional footballer to act. I cut my own throat in a sense, letting him go. But I have principles.
"Glentoran may be in the red now but when I joined, the club had a system of paying all players a maximum wage of £25. The best players were going to Portadown and Linfield. I broke that system to take Glentoran out of the doldrums. The team Glentoran have now, I built. I brought in Wayne Russell (goalkeeper) for free. Colin Nixon, Chris Walker, Stuart Elliot, Andy Kirk and Paul Leeman, all free, not a penny. That team was built on peanuts.
"Now they're Coyle's Babes, Coyle's Kids. I'm not blaming Coyley (Roy Coyle, Cassidy's replacement at Glentoran), he's doing a good job. The cup was won, league status secured and a very young and promising team built. Roy Coyle thinks he's in paradise.
I was sold on the job because I was told they had some great kids for the future. They hadn't. Glentoran now have the best youth set-up in Northern Ireland. I built that.
"I keep my head up. I'm proud of what I done at Glentoran. You get the dozen or so d**kheads who will give me grief but they are scum, what do they know about it.
Within weeks of tendering his resignation, Cassidy took over at the Premier League's relegation courting Ards. Today the club is facing the forthcoming season in the First Division. A club with near crippling financial income and powered by a board constantly under pressure from former holders.
"Ards is a million times worse to what I entered at Glentoran," claims Cassidy. "There's no money. No reserve team. No discipline. It's a shambles. I'm a bit bitter about what I have inherited at Ards. The club is in a mess. There are two reasons why I took the Ards job. I wanted to keep involved in football and I was cheap. Ards couldn't afford to pay much and I was happy to take the job.
"So I said to them (Ards), I'll manage for peanuts. But what is happening now is that I'm losing credibility. If Ards get beat, I get the blame. The club's in limbo with AGM's and meetings upon meetings and I don't know where it will end up. Now if I walk out, I'll be a quitter. Do I stay, take the hammerings, get relegated and let the critics say I took Ards down?"
Assessing Tommy Cassidy, Tommy Cassidy is candid. Whatever the game holds in store for his career in management, Cassidy will not change his ways. Regrets. He's had a few. Very few. 
He said:
"I'm good for the press. I open my mouth and I normally have something to say that the press will want to hear. I appreciate the job of the press and without it, football would go down the drain. There are people in power who are against that and don't like me for that reason. When I speak they say, 'ah for Gods sake, listen to Tommy Cassidy shouting his mouth off again'. I don't care. So what if people don't like my opinion. I'm happy with myself."

http://www.nufc.com
Alex McGreevy